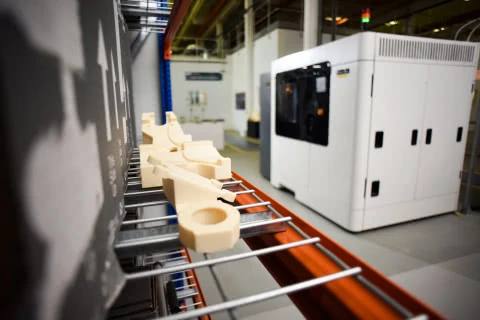 GKN Aerospace enhances tooling capabilities
"The F900 3D Printer offers us the enhanced geometric freedom to create previously unthought of 3D printed tools, which then enable us to manufacture extremely complex parts that would be uneconomical or just physically impossible to create by any other means."
Rachel Trimble, PhD., Additive Manufacturing Polymer Specialist, GKN Aerospace
Executive Summary
British manufacturer, GKN Aerospace, is the world's leading multi-technology tier 1 aerospace supplier servicing over 90% of the world's aircraft and engine manufacturers. In a bid to drive efficiencies and remain competitive, GKN Aerospace explored the potential of Stratasys FDM additive manufacturing, and is now deploying its Stratasys F900 Production 3D Printer for a range of tooling and prototyping applications. Since doing so, the company is reporting significant time and cost-savings in the manufacture of 3D printed tools and has accelerated both design development and aircraft launch times thanks to the ability to rapidly produce, cost-effective, fully-functional, realistic 3D printed prototypes.
Benefits/Value
Production line tooling lead times reduced from several weeks to a few hours compared to traditional methods, using the Stratasys F900 Production 3D Printer
Freed from the physical and economic constraints of traditional manufacturing, GKN aerospace can now produce complex tools that allow for the manufacture of parts that were simply not possible without additive manufacturing
Ability to quickly produce prototypes that look, feel and function like the final product for use in aircraft launches with key customers
GKN Aerospace –which currently has additive manufactured components flying on seven aircraft platforms across civil, military and space markets – now has its eyes firmly set on harnessing the potential of additive manufacturing for the production of high-value, flight-critical, end-use composite parts
GKN Aerospace is the world's leading multi-technology tier 1 aerospace supplier, serving over 90% of the world's aircraft and engine manufacturers. In the last 30 years, the GKN Aerospace team has also earned a reputation as leaders in the application of additive manufacturing technology in the commercial, military and space markets – with five global centres of additive manufacturing excellence.
The team at the company's Filton manufacturing site is responsible for producing and supplying production tools and prototypes to multiple areas of the business. When faced with the need to reduce costly production line downtime, as well as deliver the most fully-functional, ultra-realistic prototypes possible, Additive Manufacturing Polymer Specialist at GKN Aerospace, Rachel Trimble, sought a solution that could meet both these objectives – as well as best prepare them for the future. This saw GKN Aerospace invest in a Stratasys F900 Production 3D Printer, purchased from Stratasys local partner, Laser Lines, with Filton as the natural site to launch its FDM expertise.
Reducing costly production downtime with 3D printed tools
For GKN Aerospace's engineers, any halt in the production line causes huge, and costly problems. Indeed, one such issue is the long lead time and expense required to produce a replacement, should a traditionally-manufactured production line tool suddenly break. In such a scenario, engineers would typically have to wait weeks for a replacement; a downtime they simply could not afford.
According to Trimble, the benefit of having a F900 3D Printer in-house has removed the burden of replacing these tools and improved the responsiveness to the engineers' manufacturing requirements.
"A recent process change has led to certain metal parts requiring an additional processing step. Certain elements of the parts must be protected during this step, requiring a specialist bung that is not commercially available. Some trial bungs were sourced, but we couldn't keep up with the demand, meaning a large backlog of parts collecting on the shop floor," Trimble explains, "Now, we can print a small tool which can be used to quickly cut new bungs to the correct size and enable several parts to be processed at once to alleviate the backlog. By printing with Stratasys' high-performance, engineering-grade thermoplastics, we can produce these tools with repeatable, predictable quality every time. Tools can be produced within three hours and put to use the next morning."
Looking to the future, GKN Aerospace is experimenting with the application of Stratasys' high-strength, heat-resistant ULTEM™ 1010 filament for these applications.
Customized, optimized, revolutionized
It is not just time and cost related savings that GKN Aerospace is enjoying. Trimble believes that one of the key benefits of additive manufacturing lies in the creative freedom it affords its users. Previously, GKN Aerospace engineers were limited by the economic and physical constraints of traditional manufacturing. Now, teams can create tools that were impossible to produce prior to the company's embrace of additive manufacturing.
"The F900 offers the largest build-size of any FDM 3D printer enabling us to quickly produce tools to meet any requirements. Most notably, complex geometries and cavities that would otherwise be problematic are now practical with the F900. We're already utilising this technology to design, and 3D print, previously inconceivable tools, which then enable us to manufacture extremely complex parts that would be uneconomical or just physically impossible by any other means," she explains.'  At GKN Aerospace, this freedom is not just felt in the ability to create designs that were previously impossible, but also in the ability to improve working environments and processes for production line operators. According to Trimble, by creating optimised, accurate 3D printed tools without being restricted by size or shape, has enabled them to tailor tools to specific jobs and improve the functionality of their operations. In certain cases, GKN's engineers are reporting a dramatic reduction of 40% in concessions, and some jobs even reduced from two operators to one.
Now, the team are looking at the possibility of producing 3D printing tools in Stratasys' lightweight, production-grade materials, that are customized to each operator, thereby minimizing RSI-related injuries that could invariably impact manufacturing workflow. For Trimble, this is a whole new value-add beyond the more obvious and easy-to-quantify advantages associated with the time and cost efficiencies enjoyed from producing the tools.
Ultra-realistic, fully-functional prototypes
Currently one of the most highly-utilised machines at the Filton manufacturing site, the F900 is also deployed regularly for rapid prototyping applications – be it for fit and function tests, or to showcase concept parts to clients.
One of its most successful cases to date, was the creation of a fully-functional windscreen housing used in the introduction of a new aircraft. The launch team was on a tight-deadline, with a product unveil in front of a huge audience in Germany, scheduled to a date that could not be moved. However, the timeline hit a glitch, when the windscreen housing was still incomplete just days before the launch.
"In a matter of hours, we were able to produce a prototype of this windscreen housing on the F900," says Trimble. "The success of the part was instantly clear. The prototype produced was so realistic, and so accurate, that the launch team were not only able to go ahead with the event, but the feedback received confirmed that the 3D printed housing was almost indistinguishable from the real thing."
To the future
Looking ahead, the company is excited about the future opportunities achievable with its Stratasys FDM additive manufacturing capability. With continued material advancements allowing for the use of lightweight, functional options in aerospace applications, Trimble anticipates a greater move towards the use of FDM additive manufacturing for high-value, flight-critical, end-use composite parts.
"GKN Aerospace's product range is vast, and although the adoption of new technology can sometimes be slow, we see large-scale FDM and carbon-reinforced parts as the future of additive manufacturing in aerospace. By harnessing Stratasys additive manufacturing for tooling and prototyping, we are enjoying both time and cost savings, amongst other benefits, all whilst simultaneously preparing ourselves for the future," concludes Trimble.
See how much time and money you could save with additive manufacturing. Email 3dworld@laserlines.co.uk or call 01295 672599 to discuss your needs in detail.