UGRacing (University of Glasgow) – Product Testimonial
Founded in 2005, UGRacing is made up of a team of highly motivated and talented students studying degrees ranging from engineering to law. The highlight of each year is traveling down south and seeing the teams hard work come to life at Silverstone racetrack. In 2022, UGRacing finished first place overall and won Formula Student UK, becoming only the third team from the UK to do so and the most successful team in Scottish history.
This season (2023), UGRacing has submitted the following Product Testimonial.
Ultem 9085:
Laser Lines was able to provide us with a large, complex 3D printed part with strict rules on extremely short notice. This part housed some of our high-voltage electronics assembly, and thus we needed to ensure the specific design requirements from Formula Student were met. Specifically, the material meets UL94 V-0 fire retardancy ratings whilst maintaining a high strength-to-weight ratio. Laser Lines was able to provide a range of options which suited our needs, and the part was delivered within days.
The support removal process was straightforward, and with the aid of some heat we had the high-voltage enclosure in the car within hours.
The product held up extremely well at the Formula Student competition and drew lots of attention in the pits. We would highly recommend Laser Lines' services, making use of their high-performance printing materials and top-quality customer assistance.
ABS:
Laser Lines provided a range of housings for our low-voltage electronics using M30 Black ABS on their F370CR FDM 3D printer. These ensured that our PCBs can be watertight, mountable and damped from the harsh environments of a racetrack. 3D printing as a solution for these housings allow for freedom in design, which is extremely helpful when trying to place PCBs across the car in tricky areas. After receiving our designs, Laser Lines was quick to begin printing and provided status updates on the parts along the way. When building a Formula Student car on such a tight timeline, it is invaluable when a supplier can give live updates and turn around parts on such short notice!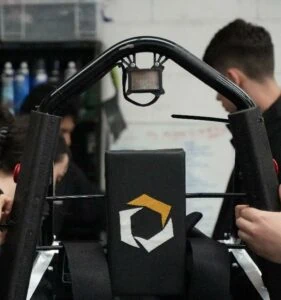 In these photos, you can see the assembled housings for the Brake System Plausibility Device (BSPD), and the Tractive System Active Light (TSAL) on UGR23.
I'd like to thank Martin, Richard and the team at Laser Lines for their support for UGR23, especially with their last-minute help when we needed parts very quickly before our annual car launch. The quality of the prints we received was top-notch and we would be extremely honoured to continue the partnership between UGRacing and Laser Lines for years to come.
Lucas Blair
Head of Manufacturing & Testing
UGRacing