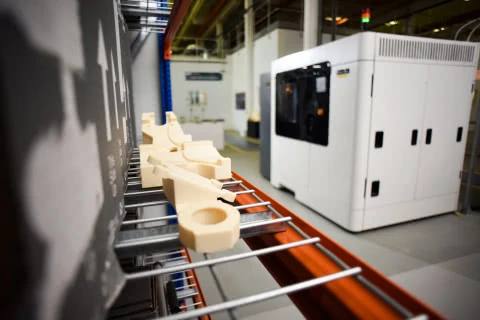 Get the ultimate FDM parts without the initial investment
3D printing brings huge time and money savings, our bureau can help manufacture large parts and realise those savings quickly.
The Stratasys F900 is the ultimate FDM 3D printing machine. For those in manufacturing and heavy industries, this machine delivers the very best production parts, jigs, fixtures, tools and working prototypes. Its accuracy is unparalleled, and its huge build envelope (914 x 609 x 914 mm) enables you to produce parts that simply aren't possible with other additive manufacturing machines.
A smart saving
The F900 is an excellent machine to buy if you need to produce a lot of industrial-grade parts, but if you only have the occasional need for them, or you would like to see what the F900's results are like, our 3D printing bureau can help.
Using the F900, we can produce the part for you and ship it to you in a matter of days – all we need is the CAD file. Our bureau charges for each part individually, so you don't have to find the upfront cost of the printer to start realising the time and cost savings that 3D printing brings.
Here to help
Laser Lines has been involved in 3D printing for over 20 years, and we are often the first point of call for people and companies looking for advice on getting the most out of 3D printing machines. We can help you design a part that will make use of additive manufacturing techniques in the most efficient manner, removing unnecessary material from your design.
Plenty of companies have already experienced the benefits a Stratasys F900 can bring. GKN Aerospace is just one of our customers in the aerospace sector that uses it to manufacture complex parts that would not be possible with traditional techniques. It has dropped its production time for many parts significantly. Now you can join them – simply fill out our online form and we will be in touch with a quote.
Call us on 01295 672599, email parts@laserlines.co.uk or fill out our online form to see how our 3D bureau can save you time and money.