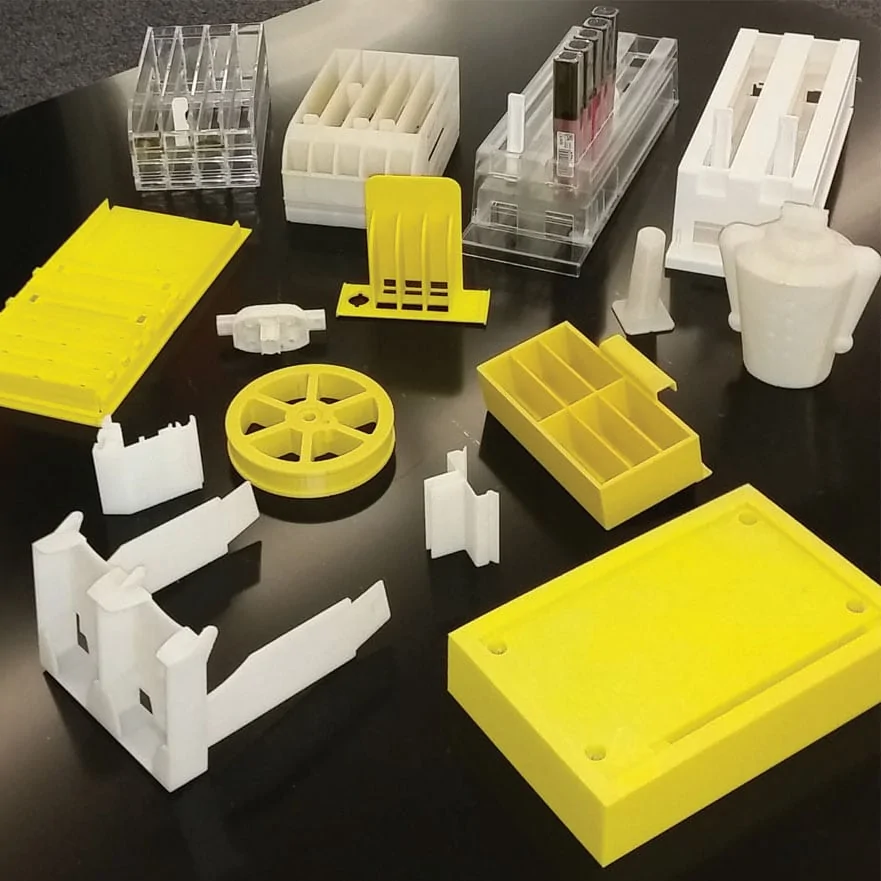 3D Printing in the Retail Sector
The retail sector has been one of the fastest growth industries in terms of its utilisation of 3D printing and additive manufacturing in recent years. Given the broad range of disciplines that can be included under the banner of 'retail design' it has the potential to continue growing at an increasing rate as material, colour and resolution options continually improve.
Away from the much publicised examples such as Asda's 3D printing 'mini figurine' roadshow in the UK or the Albert Hein 'design your own' customised fully-edible 3D printed cake decorations in the Netherlands the chances are you may already be wearing a pair of trainers or using a shower head in your bathroom that has been designed and manufactured using 3D printing as at least one part of the process.
Users now range from retail packaging design agencies to carton manufactures, footwear designers to retail shop fitters, lighting designers to point of sale display specialists – these give just a glimpse of the diversity of potential applications for 3D printing.
Laser Lines has supported a number of leading edge companies within the retail sector over the past decade both in terms of providing them with the latest in professional 3D printers and offering them an 'on-demand' bureau printing service for design prototypes and manufacturing parts.
Two of our earliest investors in this technology are London based POS specialists Kesslers International, Europe's largest designers and manufactures of retail display solutions, and award winning Leicester based product design innovation consultants Bluefrog Design.
Both of these customers purchased their first professional machines (early model Dimension printers) over 10 years ago and have recently upgraded them to larger Fortus machines to meet the increased demand for 3D printed parts.
Paul Copping, Design & Engineering Director at Kesslers, gave us this insight into how valuable this technology has been to several areas of their business:
Our business is about delivering high quality Design and Production in short lead times for the Retail Industry. 3D CAD helps us validate our designs. Nothing however is better than physical prototypes to aid our Designers, Sales, Production – and importantly customers, in reviewing and testing parts are correct before we commit to production. 3D rapid prototyping enables us to do that quickly and effectively.

We have used 3D printing in our Design Office for over 10 years and last year replaced our 3D printer, receiving excellent service and support from Laser Lines Ltd. The machines have proven to be reliable and accurate, something we now take for granted as part of our development processes. The 3D printer has also been used to manufacture jigs and tooling for production.

The bottom line though is it has helped us get developments down from weeks to days and that gives us and our customers an advantage over others, for a while!
Chris Samworth, Design Director at Bluefrog, went on to detail how these printers go way beyond their original intended use for design prototyping and are now an integral part of the production process:
Bluefrog Design was formed in 2000 and incorporated as a limited company in 2003. We are a product design innovation consultancy working across the UK and Europe. During 2009 we made our first acquisition in the purchase of a Dimension 768 ABS 3D printer from Laser Lines primarily to serve the prototyping requirements of our client base for projects in the FMCG, medical, scientific and transport markets. This move was made to add value to our portfolio of services and reduce cost.

In 2015 we were at a stage where our original printer was over capacity to a point where we were using Laser Lines' 3D bureau service for the overflow.  We therefore made our second acquisition of a Fortus 250mc ABS 3D printer with its more advanced technology, including a soluble support system and three resolution options.

We are now able to produce more robust and useable parts both for design verification and testing purposes at a prototype level, where dimensional accuracy and stability are in line with injection moulding parameters. Indeed where tooling cost is prohibitive we have manufactured functional parts for mainstream production and often have produced complex assemblies as a single entity ensuring form fit and function, reducing component count and cost.
These are just two examples of how valuable 3D printing can be to the industry.  It would be impossible to list them all here but please contact us and find out how we can assist your business.